Store more and enjoy more, without using as much storage space with the Apple iPhone 6. FaceTime your friends, create playlist for different moods, listen to podcasts, and enjoy a smarter Siri and countless updated apps on its advanced operating system.
Beautiful Unibody Design
Extremely thin, the iPhone 6 flaunts a seamless design with the smooth blend of anodised aluminium, stainless steel and the curved, polished glass. Incredibly light, the beautifully crafted iPhone 6 feels great in your hands. Thanks to its innovative design, the iPhone 6 provides an intuitive experience and is extremely easy to use.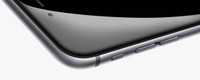 Brilliant Display
Featuring the thinnest and most advanced Multi-Touch display ever made, the Apple iPhone 6 promises a high-contrast output with incredible colors and brightness on its 4.7 inch Retina HD display. A resolution of 1334x750 pixels, clear wide-angle viewing and an improved polariser - the iPhone 6 truly offers a bigger and better display.
4.7Inch
Retina HD
326PPI
Resolution
MultiTouch
Display
Power-Packed Performance
Thanks to the all-new A8 processor with 64-bit architecture and an advanced 20 nanometre process, the iPhone 6 delivers an incredibly powerful performance while being extremely efficient. Get up to 50x faster CPU performance and up to 84x faster GPU performance with the iPhone 6.
A8
Chip
64Bit
Architecture
20NM
Process

M8 Motion Coprocessor & Sensors
Improve your iPhone's power efficiency with the M8 Motion Coprocessor that continuously measures data from your iPhone's different sensors such as accelerometer, compass, gyroscope and the new barometer.
Accelerometer CompassLight Sensor

Camera
Photos or videos - there is nothing that can beat the iPhone 6's iSight camera. The iPhone 6's 8 MP iSight camera gets new features such as a new sensor with Focus Pixels, improved face detection and exposure control. Also, now you can take amazing 1080p HD videos with the world's most popular camera.
8MP
iSight Camera
1080pHD
Video Recording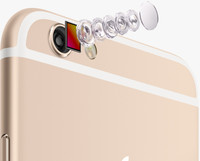 Security
Make life easier with the iPhone 6's breakthrough Touch ID technology. Now you can securely access your phone with your fingerprint - no more worries about forgetting your pass code ever again. Moreover, the iPhone 6 lets you use your fingerprint to securely make purchases on iTunes or the App Store.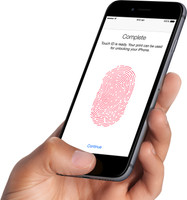 Operating System
The iPhone 6 comes with the biggest iOS release ever - the iOS 8. Featuring new capabilities and features, the world's advanced mobile operating system - the iOS 8 - gives you an incredible experience on your iPhone 6.

Connectivity
Thanks to the advanced Wi-Fi support with fast wireless performance, you can keep up with the world around you easily. Moreover, the iPhone 6 comes with Bluetooth and 3G support.
Wi-Fi Support Bluetooth

Battery
Take advantage of all the features of your highly efficient Apple iPhone 6 which boasts of an amazing battery life with up to 14 hours of 3G talk time and up to 250 hours of standby.