The Samsung Galaxy S8, with its smooth features, is stylish enough to make jaws drop. But don't let the pretty face fool you. Underneath the stylish exterior lies a beast, ready to charge at a moment's notice.
Stunning Infinity Display
The end-to-end Infinity Display of the Galaxy S8 enables an expanded screen size without the need for a larger phone. Since there's no bezel, all you see is pure content on the 14.65 cm (5.8) screen. With an 18.5:9 display ratio, every detail will fit perfectly on the Quad HD+ screen, making your viewing experience more immersive than ever.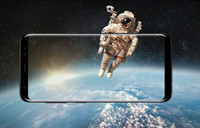 If Looks Could Kill
The screen of this smartphone flows seamlessly over the edges to merge beautifully with the aluminium chassis, offering the phone a sleek look all around. The smooth, curved surface, sans bumps or angles, helps you easily hold onto your phone with one hand while you're on-the-go. The home button is placed on the screen itself, and it stays inconspicuous until you need it. Also, the rear camera sits flush with the back, offering a smooth profile.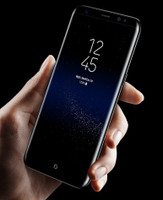 Say Cheese
Love taking selfies? The 8 MP front camera of the Galaxy S8, with its Smart Auto Focus and large f/1.7 aperture, will fan your passion for selfies. The Smart Auto Focus uses multi-frame image processing to track the faces present in the frame. As a result, all your selfies and group selfies will be crisp and clear, even in dimly lit conditions.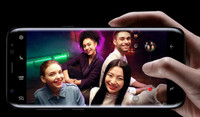 Picture-perfect Shots
The 12 MP rear camera of this smartphone features a large f/1.7 aperture and 1.4µm (UltraPixel) pixels that bring in more light, so the photos are bright and beautiful, irrespective of whether it's day or night. Want to capture your kid's infectious laughter or the flight of a pigeon from your balcony in photos? This smartphone lets you do all that and more. Thanks to its Dual Pixel sensor, the rear camera focuses on the action as swiftly as your eyes do, letting you take photos that are vibrant, sharp and clear. Not only that, it takes advantage of enhanced image processing to take multiple shots and combine them into one picture-perfect photo at the press of the shutter button.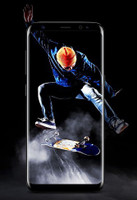 Camera Modes
With a wide range of modes and features, the cameras of this smartphone let you take amazing photos. Turn on the Pro mode to conveniently adjust any of the six settings: Manual focus, Shutter speed, Exposure, ISO, Color tone and White Balance while taking pictures. Also, you can use the preview option and choose from a range of filters to turn your photo into a work of art. Take drool-worthy photos of your food with the Food mode.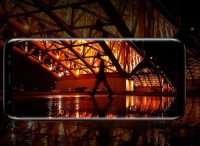 Selective Focus
Didn't like the background? Blur it out after you've taken the shot with the Selective Focus of this smartphone - a good way to hide unwanted photo bombers. This feature gives you the freedom to vary the depth of field, so you can focus on what matters - the background, foreground, or both.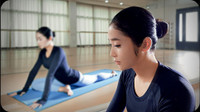 Security That Keeps Private Data Truly Private
Nobody appreciates unwanted snooping. Which is why the Galaxy S8 is equipped to the teeth to keep your private data fully secure from unauthorized access. Apart from letting you set security patterns, passwords and PINs, this smartphone also uses other more secure ways to keep its contents private.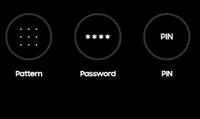 Iris Scanner
The Galaxy S8 features an Iris Scanner that uses iris authentication to unlock the phone. In addition, there's also the Face Recognition feature that gives you the freedom to open your phone by posing for a selfie. This smartphone also has a fingerprint sensor on its back to help you unlock it with just a touch.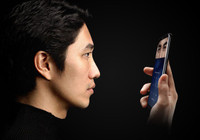 Samsung Knox - the Ultimate Security
Armed with a defense-grade security system, the Galaxy S8 offers air-tight security to protect your data around the clock. Its chip-level security offered by Samsung Knox 2.8 takes advantage of several layers of protection that work, both, at the hardware and software levels. Not only that, the Secure Folder lets you keep your most private files and apps accessible and visible only to you.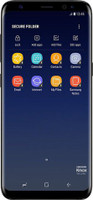 Powerful Performance
Boasting the world's first 2.3 GHz 10nm processor till date, the Galaxy S8 packs quite a punch. The powerful processor, along with a 4 GB RAM, makes multitasking a breeze. The processor not only makes the apps launch faster, but it also makes the battery last longer and reduces the power consumption by up to 20-percent.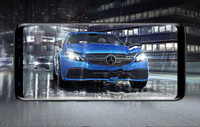 Gigabit LTE and Gigabit WiFi-ready
Love streaming movies, games and music on your phone? Since this smartphone supports 1024-QAM, it offers fast WiFi connectivity. This phone also supports cat. 16 LTE for fast connectivity, so downloading big files or sharing your data will take lesser time than before.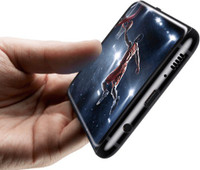 Fast-paced Gaming
The Galaxy S8 features Vulkan - a powerful 3D API (Application Programming Interface) from Khronos that gets you going quickly, even when playing graphic-intensive games.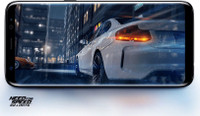 High-quality Audio
Featuring 32-bit PCM and DSD64/128 playback support, this smartphone helps you enjoy your favourite tracks as they were meant to be heard. The AKG headphones not only offer you an immersive aural experience, but also fit better in your ears.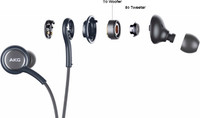 IP68-rated
With the Galaxy S8, you don't have to be worried about a light drizzle. This IP68-rated smartphone is resistant to both water and dust. It is water-resistant to a depth of 1.5 m for up to 30 minutes.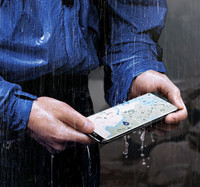 Expandable Memory
The Samsung Galaxy S8 comes with an internal memory of 64 GB. It can be further expanded by up to 256 GB using a memory card in the Hybrid card slot.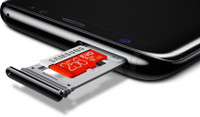 USB Type-C Port
Connect your charger without looking, all thanks to the USB Type-C port of this phone. Apart from facilitating fast charging, the USB Type-C port also leads to fast data transfer, so you spend more time doing what you love to do on your phone.

Bixby Makes it All Easy
Meet Bixby - the intelligent personal assistant that makes your phone more helpful than ever. Apart from responding to your text and voice queries, Bixby also understands your taps. Whether you want to open the camera, find nearby eating joints or even translate a document, Bixby can do all that and more as quickly as possible. All you need to do is press the Bixby icon and voice your commands.